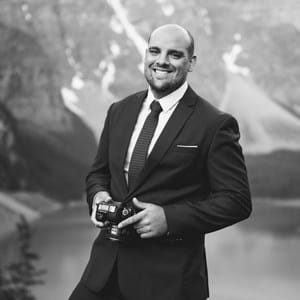 Hi, I'm Brad
I'm a fun, adventurous, coffee-loving taco-addict that loves to push creative boundaries while capturing mindblowing custom art. I love spending time getting to know people and learning new perspectives. You can usually find me out in the mountains on any given weekend. I love the outdoors and I love portraits, so naturally, outdoor portraits are my jam!
I specialize in senior portraits, engagement portraits, and family portraits. I also offer other services like headshots, maternity portraits, and weddings that aren't on Saturday.
Technical yet creative, bold but warm. My photography style is focused on expression, lighting, and clean and true colors. Although it is much easier to be a "light and airy photographer", my photographic style uses professional lighting and detailed editing versus just a camera and a filter. I believe the best photos are backlit by the sun. Backlit photos are usually hardest to capture, but the challenge is well worth the final product!
I strive to create breath-taking timeless portraits in a fun and relaxed environment. I make sure to take the time to get to know each client personally so that I can understand the best way to capture them. Everyone is unique and portraits should showcase each client's uniqueness.
During each session, your ideas are welcome, but if you need help you may rely on my professional opinion. Take a look at the priceless memories I've captured so far to get a feel for my style. If you like what you see, get in touch and together we can plan to capture something uniquely beautiful.  
Beginnings
I moved to Boise in the late spring of 2013 after graduating from Southern Adventist University with a degree in Computer Science. I loved Boise from day one and really enjoyed all the beautiful scenery. This is what sparked my interest in photography. I wanted to capture all the beauty I saw on each adventure. I took up a book and starting studying and practicing daily with my starter camera. Landscape photography was my gateway into portrait photography.
Amy, my wife, didn't share my passion for landscape photography. She preferred pictures of people over nature. Although I didn't understand her desire of portraits over landscape at the time, I decided to try portrait photography. Coming into my first session, I didn't know what to expect of myself.
During the session, I found myself naturally taking charge and capturing great images. But it wasn't until after the session when I viewed the photos that I fully realized my talent. It was then that I decided to pursue portrait photography.
Since then I have put in countless hours learning every corner of the trade. I have read books, watched videos, followed tutorials, and experimented my way into being an experienced professional photographer. I've invested good money into getting great equipment that will bring out the best in each photo. 
I learned how misguided I was about photography. There is so much that goes into a session that people don't see. But in the end, it is all worth it just to bring the best quality portraits and experience to my customers. I strive to continually learn and grow not just at photography, lighting and posing, but also better at business, customer service, and product satisfaction.
My Style
My style of photography is a mix between the Classic Portrait (posed) and Lifestyle Portrait (candid) photography style. Lifestyle Photography is the opposite of the "say cheese" posed type of portraiture. Although the Classical Portrait style makes great portraits, I feel the most meaningful pictures are those that are in the moment and that capture raw expression.
I am mainly an on-location photographer. This means I shoot mainly outside of a studio. I like to use real locations and feel that it adds more depth to a photograph. I encourage clients to choose their locations but I'm always ready to suggest places from my vast knowledge of local portrait locations. Being mainly an outdoor portrait photographer, I try my best to shoot during optimal light hours known as the Golden Hour. Some styles do require a studio style setting. For example, business headshot portraits or newborn portraits work best indoors. For clients that desire a studio style shoot, I have mobile studio equipment that allows me to bring my studio to your home, or you may come to my studio.
My style of editing... This one varies depending on the type of session, the location, the season, and the lighting. In general, my editing includes color correction, touching up of the face, and removal of any distracting elements. My style of editing many times has a flavor of light and warm. I like to add my creative style to photographs to add an even greater appeal. I am willing to work with clients if they have a preference on editing styles.
The Team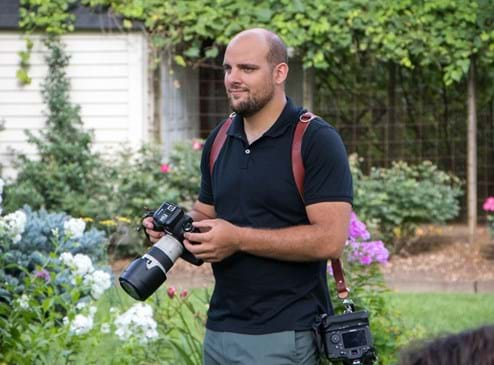 Bradly Bennison
Bradly is the lead photographer and business manager. Some adjectives that describe Brad are laid back, adventurous, and funny. Out of his numerous hobbies, some of his favorite things to do are snowboarding, mountain biking, and of course capturing magic through a lens!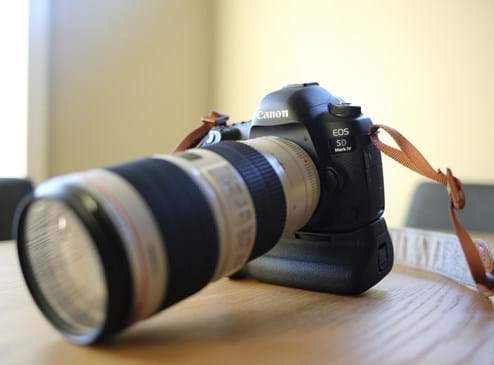 Camera
Bradly uses two professional full-frame mirrorless camera bodies. Bradly makes sure he keeps updated equipment to help capture the best possible final product for each customer. Currently, those cameras are the Canon EOS R5 and the Canon EOS R. There is plenty of other equipment used in each photo session as well. For example, off-camera flash, lighting modifiers, wireless triggers, lenses, and much more.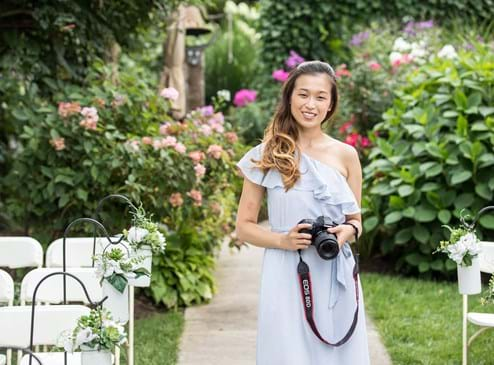 Amy Bennison
Amy is Bradly's beautiful wife and assistant. When she isn't working as a nurse, Amy is right at Brad's side assisting him with all the detailed work. Typical duties for Amy are reflecting light, checking for unappealing distractions, and helping carry equipment. Amy is Brad's second shooter at weddings as well. Amy is a valuable member of the team and adds great value to each session.